Discover more from All The Heterosexual Nonsense I Was Forced To Endure
Rebecca Shaw and Patrick Lenton watch TV and make our silly little jokes.
Over 1,000 subscribers
In the aftermath of the Channel 7 'Detransitioning' ep, what can we do to stop more transphobia being platformed in the media?
From protests happening this week to petitions, there's plenty we can do.
To say that the Channel 7 Spotlight program, Detransitioners caused an earthquake through trans activism would be an understatement.
Articles about the program, its virulent transphobia and pushing of propaganda-style misinformation, have spread like wildfire across Australia and the world. The program was extreme in its transphobia even by current standards, and as we reported recently, is leading to outrage from content creators who were used in the program without their permission. Trans masc Tiktokker ripmercury recently became the fourth trans person to state that they are part of a legal proceeding against Channel 7 for having their videos used without their consent to misrepresent the realities of being transgender.
The sad news is that this will be very likely not the last piece like this to be released in Australia, nor will it be the most extreme. To give an example of the way winds are blowing, Northern Territory Senator Jacinta Price of the Country Liberal Party has declared that she plans to campaign against trans rights after the Voice referendum. Dangerous times ahead, everyone :(
So what is there to do about it? Well, many things fortunately.
Petitions!
Olivia Gavranich, also known as indie pop musician St. South, launched a petition on change.org to have the program removed from all platforms as well as compensation delivered to all the trans content creators who were featured. The petition will be an important part of the stand against transphobic propaganda and already has close to 50,000 signatures. Ensuring that this harmful and dehumanising misinformation gets the accountability that it deserves will ensure that this doesn't become a precedent for more toxic garbage to hit the airwaves.
Also, the Trans Justice Project is calling on leaders in every State and Territory to stand with trans people against the attacks on trans lives, and have organised a week of action next week. Trans people, parents of trans kids, loved ones and allies will deliver their groundbreaking new report, Fuelling Hate, written together with the Victorian Pride Lobby to their local Federal MP.
You can get involved by also delivering a report, but you can also sign and share their petition calling on our leaders to stand up against anti-trans hate.
Protests!
Secondly, protests are being coordinated this week in Australian major cities against the Seven Network. Tonight, Meanjin People's Pride is organising at Brisbane Square to protest the program, and tomorrow Trans Queer Solidarity Naarm is organising a protest at the Channel 7 studios in Melbourne. Brisbane organiser Amy Sargeant commented on these actions to ATHN, saying:
"To quote our favourite chant, "When trans rights are under attack, what do we do? Stand up fight back!" - and it's true, we must stand up in the face of relentless disinformation and bigotry and protect our community. These bastards are coming for one of the most vulnerable groups in our society - trans kids - and we will not take it sitting down.

Direct action works. Being an ally is an active stance. There is no such thing as a passive ally. So we need to see all our friends and supporters being active, helping us self-actualise, and protecting us when we are under attack."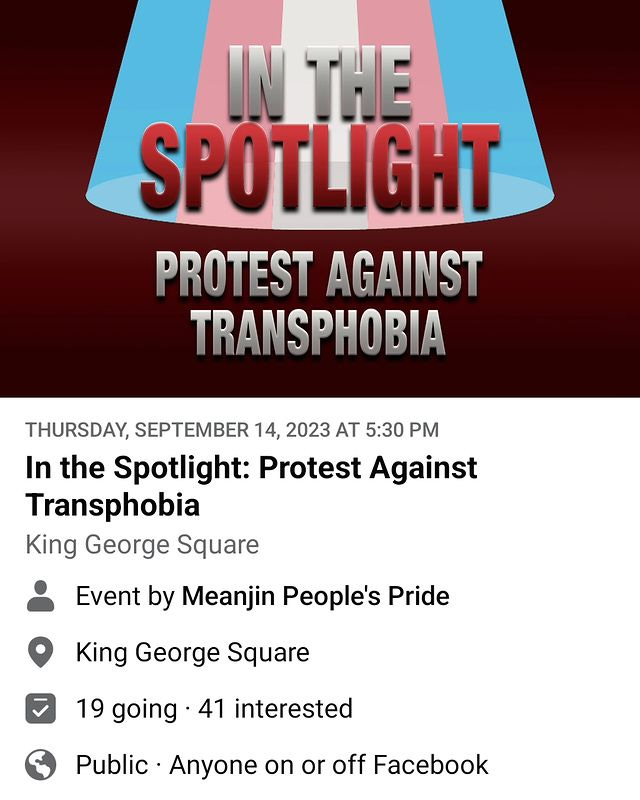 Trans Queer Solidarity Naarm stated in promotion for their protest:
"We're tired of losing loved ones to the violence of anti-trans propaganda, waiting lists, poverty, and exclusion in capitalism. Let's gather in pride, protest and solidarity against systemic violence and fight for liberation!"
Share trans stories
On a happier note, another thing that can be done to prevent anti-trans misinformation hitting the mainstream, is simply to share the truth of transgender stories. Whether that be fiction or non-fiction, propaganda always fails to succeed when its paired up against the truth. So if you see a positive story from a trans person or a detransitioner, share it around! Put uplifting stories into people's social media feeds!
There are more trans artists now than they're ever been, and all of them would be extremely grateful for your continual support as well. St. South is one example amongst many of hardworking trans musicians. We could name June Jones, Simona Castricum, Rosie Rai, Dubhessa, amongst many others in Australia. While our Australian screens are starved for trans-led and created content, in terms of literature there's the likes of Alison Evans and Maddison Stoff creating uplifting transgender-inspired stories. Trans art is more than just a job, it's a lifestyle, and it's a radical form of protest that desperately needs an audience. Its support is the biggest weapon we have in this fight.
Dark times might be on the horizon, but we are strong and we have each other, and have some of the best artists and community leaders in Australia. When trans rights are under attack, what we do? Stand up, fight back!
Brisbane Protest: Thursday 14 September 2023, 5:30 PM, at 266 George St, Brisbane. Organised by Meanjin People's Pride
Melbourne Protest: Friday 15 September 2023, 5:30 PM, at Channel 7 HQ, 160 Harbour Esplanade Docklands. Organised by Trans Queer Solidarity Naarm
Further Reading:
""Detransitioner Wave" Fails To Materialize, Trans Regret Rates Remain Low" - Erin in the Morning
"Channel 7 condemned by more trans people for "horrifying" use of images without permission" - Pink News
"Channel 7 apologises for using woman's face in anti-trans show labelled "dangerous"" - SBS
"Channel 7 slammed for using photos, videos of trans, non-binary persons without consent" - Star Observer
""Horrified": Non-binary Aussie launches petition against Channel 7" - QNews